Learn more about the science, technology and innovation ecosystems co-financed by FONTAGRO

Sustainable intensification of livestock systems with legumes.


A collaborative platform has been created between eight Latin American countries looking to improve their livestock production, biological nitrogen fixation and soil-based carbon sequestration through the introduction of pastoral legumes. At present, more than 50,000 gas chromatography samples have been taken, showing a CH4 emission reduction of 14% per animal in pastures with legumes.

Innovation for pasture management.


A platform comprising Uruguay, Argentina and Costa Rica that seeks to increase forage production by at least 30% through software that simplifies and optimizes pasture management decision-making. Results so far include: 14,200 hectares being monitored, over 230 producers, 12,000 training days and 44 experimental farms. This project seeks to improve efficiency of biomass use through satellite imagery and machine learning, creating positive environmental externalities.

Cattle productivity in the South American Chaco region.


The South American Chaco is the second largest reserve of native forest in the continent and is faced with the challenge of balancing productivity and conservation. Family livestock farming has the lowest environmental impact of the productive activities in the region, however, productivity is very low.

This project seeks to improve efficiency, stability and resilience of family cattle rearing systems through surveys of existing productive systems to evaluate limitations and alternative technologies that can improve common practices.
Among the results so far are 90 pilot sites, 2,467 trained farmers and 196 in-person and remote workshops.

AgTech for Climate-Smart Livestock Production.


Livestock production systems face a depletion of natural resources, climate variability and increased food demand, among other challenges. Consequently, efforts should be made to increase their productivity and profitability in a sustainable manner.

To this end, the AgTech project for Climate-Smart Livestock Production has developed a public-private platform to expand the technical toolbox of the dairy sector in Latin America and the Caribbean. The platform seeks to develop new capacities for sustainable management processes, leading to climate-smart dairy farms, and to develop and validate digital tools, and train professionals in good practice with the tools produced.

The application was validated over a year, reaching 526 users, 508 farms and 79,756 dairy farmers were surveyed across 12 countries. Furthermore, 31 workshops, 73 climate change mitigation exercises and 48 adaptation exercises have been carried out.

Soil-based carbon sequestration opportunities in Latin America and the Caribbean.


To contribute to increasing the organic carbon content of soils, a group of countries joined the search for management strategies that improve carbon sequestration potential of agricultural systems. This initiative is part of C-FARM (Carbon Farming Alliance for Research and Management) led by Rattan Lal. It has reached over 400,000 beneficiaries, found 5 opportunities for soil-based carbon sequestration, analyzed over 1800 samples and trained 30 technicians in the process.

Satellite monitoring of the quality and quantity of available biomass in pastoral livestock systems within Latin America and the Caribbean.


The main objective of this project is to lower the cost of real-time precision estimates of the quantity and quality of available biomass in pastoral livestock systems of Latin America and the Caribbean. This will be achieved through satellite monitoring to improve productive efficiency and profitability.
Direct beneficiaries are livestock producers in pastoral systems of Argentina, Uruguay, Colombia and Costa Rica. Among other benefits will be the ability of government bodies to more accurately quantify the magnitude and intensity of greenhouse gas emissions, allowing them to monitor, report and verify the effect of national mitigation policies.

Meeting with the New Zealand embassy.
We met with the Deputy Director-General for Policy and Trade from the Ministry for Primary Industries of New Zealand, Julie Collins, where we had the opportunity to present FONTAGRO and the progress of our co-financed projects. During the visit we were joined by Margaret Zeigler, IICA Representative in the USA, and Horrys Friaca, IICA Agricultural Health and Food Safety Specialist. Key conversation topics included the need to increase opportunities for adaptation, mitigation and resilience to climate change from both a knowledge and technological standpoint, as well as highlighting the role of FONTAGRO as a regional actor for creating networks to facilitate this process in Latin America and the Caribbean.
| | |
| --- | --- |
| Improving pasture management can increase grazing and reserves by 30% | Gran Chaco: The second lung of South America can conserve and produce |
| | |
| --- | --- |
| Improving pasture management can increase grazing and reserves by 30% | Gran Chaco, the second lung that can conserve and produce |
FONTAGRO took part in the Cooperation Project Launching Ceremony for leadership training with Rural Women from Advisory Councils of INTA Argentina.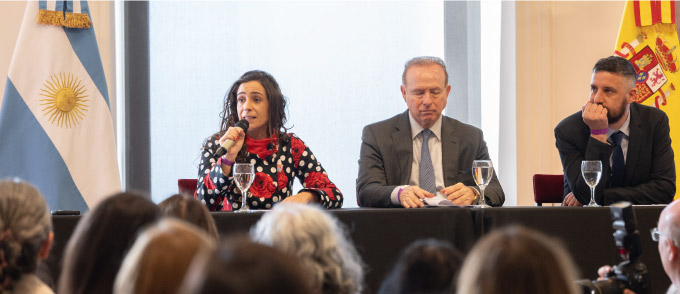 On August 30th, in the Bicentennial Women's Room of the Casa Rosada in Buenos Aires, the Leadership Training Course for Rural Women from Advisory Councils of INTA Argentina was launched. The program is aimed as rural women that make up these Councils to strengthen their participation, organizational and technical capacity and impact, as well as to address the intersectionality of gender perspectives within the agricultural field.
The project is the result of international cooperation between Argentina and Spain, through the National Institute of Agricultural Technology (INTA), the Spanish Agency for International Development Cooperation (AECID), and the Argentine Agency for International Cooperation and Humanitarian Assistance – White Helmets (ACIAH) with support from the Secretariat of Agriculture, Livestock and Fisheries and the Argentine Foreign Ministry.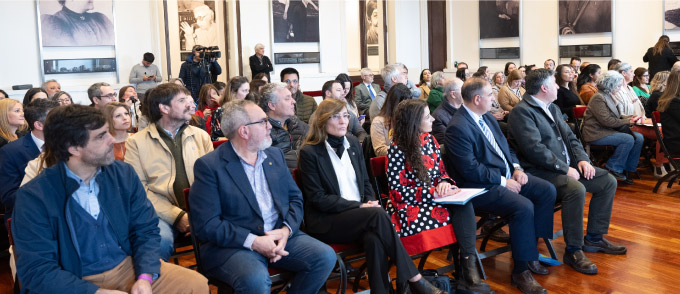 Partaking in the launch ceremony were officials from INTA, among them the vice president Nacira Belén Muñoz; Santiago Galar, National Director of International Cooperation representing the Argentine Agency for International Cooperation and Humanitarian Assistance – White Helmets; and Luis Tejada Chacón, Minister Counselor in charge of Business at the Spanish Embassy in the Argentina Republic, representing the Spanish Agency for International Development Cooperation.
Muñoz stressed that this initiative is unprecedented as it plans to accompany the training of 200 women across the country in leadership excellence, designed by local experts together with technical teams and will be led by INTA. The course consists of remote and in-person activities, workshops and seminars.
International National Parks Day.
To commemorate National Parks Day, the project "Cattle productivity in the South American Chaco region" has been made public, carried out by FONTAGRO together with the Ministry for Primary Industries of the New Zealand Government and the Global Research Alliance on Agricultural Greenhouse Gases.
The project works towards improving family livestock production as part of an integral strategy to conserve and protect the native forest of the Chaco region through the uptake and combination of technologies with low environmental impact, such as silvopastoral systems that preserve biodiversity, soil properties and enhance early tree regeneration.
A total of 103 training sessions have already been carried out, in which 2,467 livestock producers from the 3 participating countries (Argentina, Bolivia and Paraguay) participated.
Anniversary of INIA Venezuela.
On August 25th we celebrated a new anniversary of the National Agricultural Research Institute, Venezuela, who's mission is to drive technological innovation in agri-food systems in order to optimize national production.
The institute has participated in several FONTAGRO projects, encompassing research and technological development of rice, beans, potatoes, plantains, livestock, sustainable intensification and climate change, among others.
48 years of IDIAP Panama.
On August 28th, the Institute of Agricultural Innovation, Panama, celebrated 48 years. IDIAP Panama, with Dr. Arnulfo Gutiérrez as Director General, is dedicated to research for the generation, adaptation, validation and dissemination of agricultural knowledge and technology, framed within the policies, strategies and guidelines of the national agricultural sector.
Among the main results of projects carried out with FONTAGRO are implementation of climate change mitigation strategies and setting up community seed banks for corn, beans and yucca.
 

The President of FONTAGRO, Arnulfo Gutiérrez, underscored the fund's spirit of collaboration and cooperation.


Arnulfo Gutiérrez stressed that the main objective of FONTAGRO is to make new, innovative technological solutions available to agricultural producers. He added that since its foundation, a platform was thought of for collaborative work between researchers from national institutes (there are already 1,200) with support from the Inter-American Development Bank (IDB) and the Inter-American Institute for Cooperation on Agriculture (IICA), in order to strengthen Latin American agriculture. Furthermore, he invited those countries that are not yet members to be a part of FONTAGRO and help it grow even more.

 

The leader of the project "Regional alliances for the dissemination of iron-rich beans in Latin American countries" explained its importance.


Maika Barría of IDIAP Panama highlighted the importance of developing biofortified crops for feeding the population and how this type of technical alternative can address nutritional deficiencies.

Beans are a key crop for strengthening food security and nutrition for the populations of Panama, Colombia, Honduras, Nicaragua and the Dominican Republic. This projects seeks to develop a protocol for high-quality seed production, stimulating demand and providing new iron-rich bean varieties. So far 9 varieties of seeds have been developed.

 

The Director of INIAP Ecuador discussed the importance of FONTAGRO for their country.


Raúl Jaramillo, Director of the National Institute of Agricultural Research (INIAP Ecuador), assured that meaningful contributions to Ecuador's agriculture have been made through the multiple projects financed by FONTAGRO. Similarly, he stressed that advances are made daily through the network of strategic partners formed with the Regional Fund for Agricultural Technology. Ecuador is one of the founding countries of FONTAGRO and during its 25 year membership has participated in 45 regional science, technology and innovation projects.

Copyright 2023 – Inter American Development Bank / All rights reserved.
***
About FONTAGRO
FONTAGRO was created 1998 with the purpose of promoting the increase of the competitiveness of the agri-food sector, ensuring the sustainable management of natural resources and the reduction of poverty in the region. The objective of FONTAGRO is to establish itself as a sustainable financing mechanism for the development of agricultural technology and innovation in Latin America and the Caribbean and Spain, and to establish a forum for the discussion of priority topics of technological innovation. The member countries are: Argentina, Bolivia, Chile, Colombia, Costa Rica, Ecuador, Spain, Honduras, Nicaragua, Panama, Paraguay, Peru, Dominican Republic, Uruguay and Venezuela. In the last 21 years 167 regional agricultural innovation platforms have been co-financed for an amount of US $ 124 million, which has reached 452 institutions and 33 countries worldwide.